So it's coming up on April 1st and my BFF Ilona has a book coming out on April 1st! I got to read it way back when and nearly swooned with delight when I did - Magic Burns is a tightly plotted urban fantasy set in a post-apocalyptic world, with enough flirting between the two main characters to make my tingly parts tingle. And if you haven't read the series yet, you really should. Atlanta destroyed, bad-tempered hot chicks in leather, a delicious beast lord, and hot teenage boys that are werewolves. What's not to love?

That being said, I insisted asked Ilona if I could interview her for my Livejournal, but I didn't want to ask the regular interview questions. So we decided to have a bit of a conversation instead.




Jill: All right, well, let's start with Curran. Why do you suppose the books are about Kate, but everyone asks about Curran? Do you think Kate gets jealous?

Ilona: That's easy! Curan is hot, bad, and might be marginally mad. Kate doesn't get jealous. She is too in denial.

Jill: So since Curran is a cat as well as a beast lord, does he share other anatomy with cats? I am thinking specifically of reproductive organs and barbs. That would make for an interesting date, wouldn't you think?

Ilona: Good Gad, no!

Jill: Well fine. You knew someone was going to ask it at some point. Might as well be me... So we discussed at length Curran's underpants on the RT boards, but Kate's underpants are revealed in book 2. Why do you think she goes for girly? I would have thought she'd be more of a chain-mail-bikini or leather-studs type.

Ilona: Why not girly underwear? Poor Kate has so little fun in her life. Always beaten up, always dirty, tired, hungry, sleepy. Thing are chasing her or she is chasing them. At least her panties can be comfy and cute.

Jill: Comfy undies are a must.Especially if Kate is going to go around wearing leather all day. Xena complex or do you think she just likes the smell of hot, sweaty leather in Atlanta in July?

Ilona: Nope, she's just allergic to having her skin ripped by claws :P

Jill: So she's practical, would you say? ;) Let's talk about Ilona Andrews, the two headed monster. I hate it when people give me writing advice so I can't imagine working with a partner - do you ever just want to reach over and choke your writing partner? What sorts of things do you two disagree on?

Ilona: Mostly on the melodrama. Gordon wants it all manly. Rawr, muscles, honor, kill. I want moments of sugar wuggams-ary.

Jill: LOL. So if Gordon was writing all of it, we'd have blazing guns and hot wimminz, and if you were writing all of it, we'd have Jane Austen? Speaking of, what's with your Johanna Lindsay fetish lately? Why do you think you're so addicted to her books, seeing as they're nothing like what you write?
Ilona: What do you mean, nothing? I have adventure and smexy alpha menz and hot-bloodied wimmenz, just like Johanna!

Jill: Yes, but if Curran is shockingly forward with Kate, he gets a boot planted in his arse. He doesn't get the gentle-face slap and then immediate angry nookies.

Or does he...?

Ilona: Where are you going with this? Are you trying to lead me into writing some sexxors?

Jill: Is it working? *g* All right, all right. Let's talk about writing then, you big baby. What's one thing about your writing process that we (royal we) might not know about the famous Ilona Andrews, not-a-Russian-spy?

Ilona: I check my email every ten seconds to see if my BFFs emailed? :scratches head: Oh! I cut enormous amounts of text. All the time. Chop-chop-chop. 3,000 words, chop, chop!!!

(two minutes pass)

Chop, chop, chop!

Jill: Oh please, we all knew that. :P You are the most ruthless cutter I know of. Speaking of ruthless cutters (yuk yuk), how do you think the magic in Atlanta has influenced Kate? Do you think that if Atlanta were normal, she'd be someone's secretary? Or would she be something a little more ruthless?

Ilona: Well, it's hard to say. She could have been a historian like her mother. :)

Jill: Too nerdy. I am thinking dominatrix.

Ilona: There you go, with sexxors again...

Jill: I do have a one track mind. You know this, since you are my BFF. Okay, okay. Let me try and come up with a 'real' question that is non dirty. Okay, out of both books that are out for publication, what is your favorite scene and/or character and why?

Ilona: The Curran feeds Kate soup scene. Because it's sexy.

Jill: Snippet!!!

Ilona:

"I see. I retrieve the surveys the Pack let slip through its fingers, and in return you bring me here against my will, interrogate me and threaten me with bodily harm. I'm sure the Order will be amused to learn the Pack kidnapped its representative."
Curran nodded thoughtfully. "Aha. Who's going to tell them?"
Um… Good question. He could kill me and nobody would ever find my body. The Order wouldn't even investigate that hard; they might just chuck it up to the flare-related craziness.
"I guess I'll just have to kick your ass and break out of here." I bravely drank the rest of the soup from the bowl, abandoning all propriety. Probably shouldn't have said that.
"In your dreams."
"We've never had our rematch. I might win." Probably shouldn't have said that either. "Bathroom?"
Curran pointed to the two doors on his left.
I untangled myself from the sheets. I really had to go to the bathroom. The question was: would my legs support me?
Curran smiled.
"What's so funny?"
"Your panties have a bow," he said.



Jill: Win! I think that's one of my favorite scenes too. :) Oh...I almost forgot to ask you the standard 'writing' question. "If Curran were a tree, what tree would he be."

Ilona: English Oak.

Jill: English Oak? Why?

Ilona: Big, sturdy, and fun to climb.




Thank you, Ilona Andrews, for being as funny and irreverent as I knew you were. ;)

And speaking of funny, and it's the week of April Fools...it's time for a bit of a contest! It's time to...LOL MY BFF

Here are the rules. You take the Magic Bites cover. Or you take the Magic Burns cover. You LOLcat it in true Lolcats style, like so: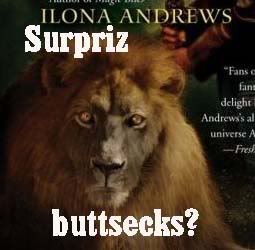 You post it here in my comments, or you post the link to your webpage/whatever where the picture is stored. This is so everyone can share in the lolz.

You do this before the end of the day, April 3rd.

Ilona Andrews herself will pick the BEST LOL OF HER COVER ART. That person will win a spiffy copy of MAGIC BURNS, delivered to their door (US address please).

I will randomly pick a second winner. That person will win a spiffy copy of MAGIC BURNS, delivered to their door (still that pesky US address).

So what are you waiting for? LOL-away!