So it's coming up on April 1st and my BFF Ilona has a book coming out on April 1st! I got to read it way back when and nearly swooned with delight when I did -
Magic Burns
is a tightly plotted urban fantasy set in a post-apocalyptic world, with enough flirting between the two main characters to make my tingly parts tingle. And if you haven't read the series yet, you really should. Atlanta destroyed, bad-tempered hot chicks in leather, a delicious beast lord, and hot teenage boys that are werewolves. What's not to love?
That being said, I
insisted
asked Ilona if I could interview her for my Livejournal, but I didn't want to ask the regular interview questions. So we decided to have a bit of a conversation instead.
(
Collapse
)
Jill: Win! I think that's one of my favorite scenes too. :) Oh...I almost forgot to ask you the standard 'writing' question. "If Curran were a tree, what tree would he be."

Ilona: English Oak.

Jill: English Oak? Why?

Ilona: Big, sturdy, and fun to climb.




Thank you, Ilona Andrews, for being as funny and irreverent as I knew you were. ;)

And speaking of funny, and it's the week of April Fools...it's time for a bit of a contest! It's time to...LOL MY BFF

Here are the rules. You take the Magic Bites cover. Or you take the Magic Burns cover. You LOLcat it in true Lolcats style, like so: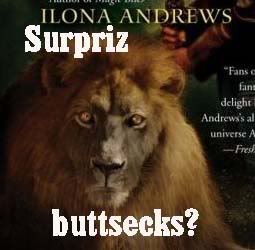 You post it here in my comments, or you post the link to your webpage/whatever where the picture is stored. This is so everyone can share in the lolz.

You do this before the end of the day, April 3rd.

Ilona Andrews herself will pick the BEST LOL OF HER COVER ART. That person will win a spiffy copy of MAGIC BURNS, delivered to their door (US address please).

I will randomly pick a second winner. That person will win a spiffy copy of MAGIC BURNS, delivered to their door (still that pesky US address).

So what are you waiting for? LOL-away!